LWVS COMMUNITY BOOK GROUPS
The League seasonally chooses a book that is interesting, timely, and thought-provoking as the subject of a community book discussion. Open to all and typically held at a member's home (or over Zoom during pandemics), these discussions are casual and collegial, honest and lively. Leave with new knowledge and insight, and maybe a few new friends!
COMMUNITY BOOK DISCUSSIONS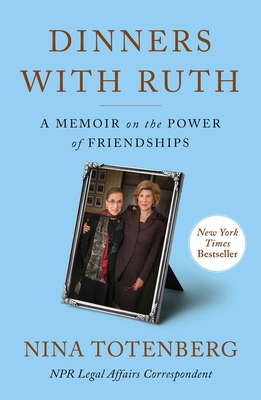 Dinners with Ruth:
A Memoir on the Power of Friendships (2022)
by Nina Totenberg
Sunday, April 23, 2023
7 pm to 8:30 pm
Private Home
Please RSVP using the form below. The address for meeting location will be sent via email.

Bronx River Books in Scarsdale Village is offering a 10% discount on the purchase of the book when you mention you are participating in the League of Women Voters of Scarsdale Book Club.
About the author:
Nina Totenberg is NPR's award-winning legal affairs correspondent. She appears on NPR's critically acclaimed news magazines All Things Considered, Morning Edition, and Weekend Edition, and on NPR podcasts, including The NPR Politics Podcast and its series, The Docket. Totenberg's Supreme Court and legal coverage has won her every major journalism award in broadcasting. Recognized seven times by the American Bar Association for continued excellence in legal reporting, she has received more than two dozen honorary degrees. A frequent TV contributor, she writes for major newspapers, magazines, and law reviews.
---
---
PAST LWVS BOOK SELECTIONS
Spring 2021 – Caste: The Origins of Our Discontents by Isabel Wilkerson; joining the discussion was Richard Westmoreland, retired Marine Corps Lieutenant Colonel and former F/A-18 pilot, mentioned in the book for his participation in the Confederate monument debate in New Orleans from 2015 to 2017 as a vocal proponent of removal
Winter 2020 – Tell Me How It Ends: An Essay in Forty Questions by Valeria Luiselli and Melting Pot or Civil War: A Son of Immigrants Makes the Case Against Open Borders by Reihan Salam
Spring 2019 – How Fascism Works: The Politics of Us and Them by Jason Stanley
Fall 2018 – One Person, No Vote: How Voter Suppression Is Destroying Democracy by Carol Anderson
Spring 2018 – Evicted: Poverty and Profit in the American City by Matthew Desmond
Fall 2017 – Sisters in Law: How Sandra Day O'Connor and Ruth Bader Ginsberg Went to the Supreme Court and Changed the World by Linda Hirschman
Fall 2016 – Hillbilly Elegy: A Memoir of Family and Culture in Crisis by J.D. Vance
Spring 2016 – Dark Money, The Hidden History of the Billionaires Behind the Rise of the Radical Right by Jane Mayer
Fall 2015 – The Prize: Who's In Charge of America's Schools by Dale Russakoff
Spring 2015 – The Short and Tragic Life of Robert Peace by Jeff Hobbs