Running & Winning
Thursday, April 27, 2023
9am to 2pm
West Ballroom, Reid Castle
Manhattanville College
On April 27, 2023, the League of Women Voters of Westchester (LWVW) and the Association of American University Women (AAUW), with financial support from additional sponsors, will host their unique Running & Winning, a one-day program for female high school sophomores, juniors, and seniors at Manhattanville College. The program goal is to support our young participants' aspirations to serve in public office, develop their leadership potential, and, at the same time, help our government institutions increase gender parity.
The program agenda includes both learning from experiences and practical application.
Elected officials will provide a brief recap as to how they became involved in politics.
Small teams of students will interview elected officials in greater depth regarding the seeking and holding of public office.
Student teams will design a slogan, and write and deliver a meaningful campaign speech on an issue selected from a curated list.
---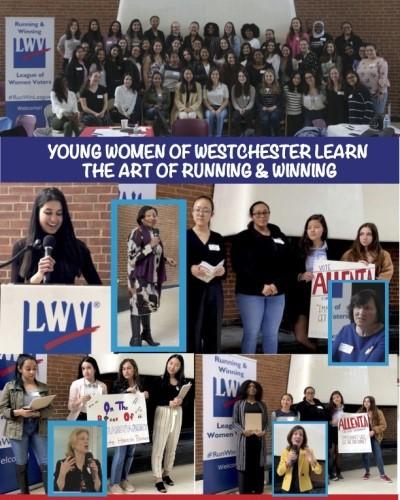 Despite the 19th Amendment codifying women's suffrage rights in 1920, women are still chronically underrepresented in all levels of government more than 100 years later. One way to reach greater representational parity for women is to develop leadership potential in the young women of our county.
This day-long workshop gives young women* in high school the opportunity to explore public service as a career. During the workshop, students talk with local female* elected officials about their experiences in politics, explore their own leadership abilities and develop teamwork skills working with other students to create and present an issue-driven mock campaign.
Women elected officials representing Westchester constituents at all levels of government speak with the female high schools students about how they got started in politics, the challenges they faced, and how they persevered and succeeded.
The 2020 event had been cancelled due to the pandemic. The 2021 event occurred in a virtual format (see video below), and the 2022 event returned to the traditional in-person format.
* LWVW uses an inclusive definition of "woman" and "female" and welcomes all people who identify as such to this program.
Please contact LWVSyouthprograms@gmail.com for more information.