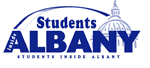 Students Inside Albany (SIA) Conference
In-Person* on Sunday, May 21, 2023, through Wednesday, May 24, 2023, in Albany

*Additional details concerning vaccination and/or mask requirements to be provided when available.

Deadline for Application: Monday, February 6, 2023
LWVS SIA 2023 Application and Instructions
Students may open and copy the application to edit and then submit via email to LWVSyouthprograms@gmail.com.
In keeping with longstanding practice, LWVS invites high school students to submit applications to attend the Students Inside Albany (SIA) Conference. Any 10th grade, 11th grade, or 12th grade student who attends Scarsdale High School or who resides in the school district is eligible to apply.
This year, the State League Education Foundation and the Scarsdale League of Women Voters will fund the expenses for two highly qualified Scarsdale students, selected from an outstanding pool of applicants. The conference will continue to be free for students to attend.
The program is designed to immerse students in the process by which public policy is proposed, enacted and changed in New York State and educate them as to how they can influence and affect this process. Traditionally, the conference brings approximately 60 students from across the state to Albany to get a first-hand education about their state government. The highlight for most students is the opportunity to shadow their state representatives, with many students getting the opportunity to attend a session on the chamber floor. This year, SIA is expected to return to its traditional in-person format.
Scarsdale students who attended this program in the past were unanimous in their enthusiasm about the program. Follow this link to read an article about SIA written by Scarsdale's two student representatives who attended the last in-person conference held in 2019.
For more information, view LWVNYS's SIA 2023 brochure.
Please contact LWVSyouthprograms@gmail.com for more information.