Dinners with Ruth:
A Memoir on the Power of Friendships (2022)
by Nina Totenberg
Sunday, April 23, 2023
7 pm to 8:30 pm
Private Home in Scarsdale
Please RSVP to let us know you will be participating and to be notified of the address.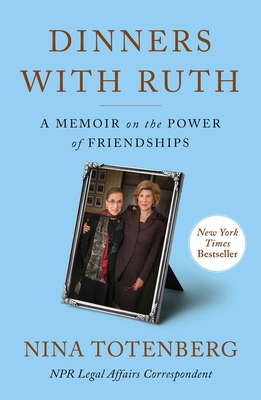 Journalist Nina Totenberg reflects on her relationships with family and prominent friends that include Ruth Bader Ginsburg, cherished NPR colleagues Cokie Roberts and Linda Wertheimer, and Supreme Court Justices Lewis Powell, and Antonin Scalia. The book is an intimate account of women who paved the way for future generations by tearing down professional and legal barriers and transformed the workplace. 
Bronx River Books in Scarsdale Village is offering a 10% discount on the purchase of the book when you mention you are participating in the League of Women Voters of Scarsdale Book Club.
About the author: Nina Totenberg is NPR's award-winning legal affairs correspondent. She appears on NPR's critically acclaimed news magazines All Things Considered, Morning Edition, and Weekend Edition, and on NPR podcasts, including The NPR Politics Podcast and its series, The Docket. Totenberg's Supreme Court and legal coverage has won her every major journalism award in broadcasting. Recognized seven times by the American Bar Association for continued excellence in legal reporting, she has received more than two dozen honorary degrees. A frequent TV contributor, she writes for major newspapers, magazines, and law reviews.